Mera Peak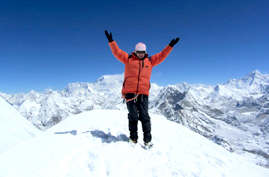 Mera Peak (6,676 m) is the highest permitted trekking peak in Nepal. Mera Peak, in the heart of the Everest region, is ideal for those looking to join their first Himalayan Climbing expeditions. Thought Technically and easy climb it is a real challenge to reach the Summit of Nepal's Highest Trekking Peak. It stands to the south of Everest and dominates the watershed between the heavily wooded valleys of the Hinku and H. Drangkas. J.O.M. Roberts and Sen Tenzing made the first successful ascent of Mera Peak on 20 May 1953.

Island Peak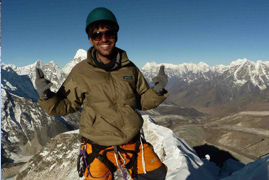 Island Peak 6,160 meters was first ascended in by a British expedition that included Tenzing Norgay. Eric Shipton's named the peak as it resembled an island in a sea of ice. The peak is part of the south ridge of Lhotse and linked to the semicircle of cliffs that rise to the north of the summit of Nuptse. Our adventure begins with a short flight to Lukla and two days of easy walking to Namche bazaar. En- route to Base Camp our trail takes us into the high valleys of the Khumbu region, providing magnificent views of Everest and the satellite peaks.

Lobuje Peak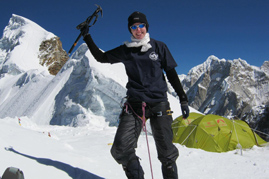 Lobuje is recognized as a trekking peak, whereas the West is known as an Expedition Peak. Aurence Nielson and Ang Gyalzen Sherpa made the first recorded ascent to Lobuje East on 25 April 1984.The East face rises over the moraine of Khumbu Glacier to a spectacular skyline, forming the south ridge. It is suitable for the complete novice or as a great refresher for those who want to climb again. The course includes an introduction to equipment, crevasse rescue, ice climbing skills, rope work.